January 31, 2017
The Huntington Highsteppers shined at last Sunday's Dance Team Union regionals, capturing the kick category and grabbing fourth place in team, jazz and pom.
Coached by Paige Tyree and Jessica Harris, the Highsteppers are captained by seniors Christi Reinertsen, Magenta Lopez and Kelsey Miller and junior Bethany Danziger.
This marked the first time that Huntington's competitive dance team competed in all four categories. "The girls were thrilled that all their hard work seems to be paying off," said Paige Tyree, who coaches the squad along with Jessica Harris.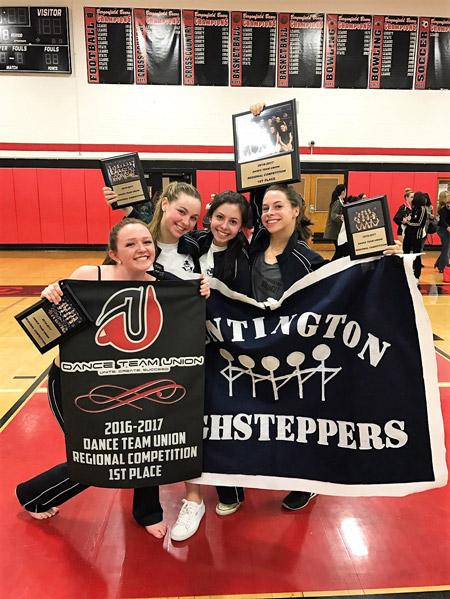 Highsteppers team captains
with last Sunday's regional awards.
The four team captains are joined by exceptional dancers Nicole Sevilla, Casey Moskowitz, Jamie Spector, Sophia Ornato, Charlotte Brosoff, Kaitlyn Smith, Sophia LaCentra, Casey Smith, Brooke Cafiero, Vennyse Green, Bella Thompson, Mia Redick, Livia D'Anna, Courtney McCloud, Aniya Richardson and Lauren LoScalzo. Senior Ally Arleo is the Highsteppers' team manager.
"We had an awesome time at the regional competition and it made us even more excited for our upcoming trip to the nationals next weekend," Ms. Lopez said.
The Highsteppers will depart for the Dance Team Union national championships at Universal Orlando in Florida on Thursday from MacArthur Airport in Ronkonkoma and return on Monday. "We will be competing in the same four categories [as we did at the regionals] and we will also have two soloists performing in Magenta Lopez and Sophia LaCentra," Ms. Tyree said.
Next Saturday's national championship competition will be live streamed on Dance Team Union's Facebook page. Finalist rounds will be held on Sunday. The highly anticipated awards ceremony will cap off the weekend.
The Highsteppers have been refining their routine during grueling workouts. Dance team members have performed for the community during fall football and winter basketball games as well as at the school's pep rally. Dancers marched in last fall's Homecoming Day parade.