January 30, 2017
Maya DelGiudice has been around music most of her life. The Huntington High School sophomore started playing piano when she was five years old and her parents and brother are all musical performers, too.
The teenager's mother is a singer and her father plays guitar and saxophone. Her brother, Dylan, a member of Huntington's Class of 2016 can play several instruments. Now a Columbia University freshman, he has captured a long list of awards over the years in recognition of his talents.
"I grew up in a musical environment," Ms. DelGiudice said. "I went to a concert at Hofstra University and saw an oboe player and it sounded really pretty. I always wanted to play an instrument that no one else really plays. That's how I got interested in oboe."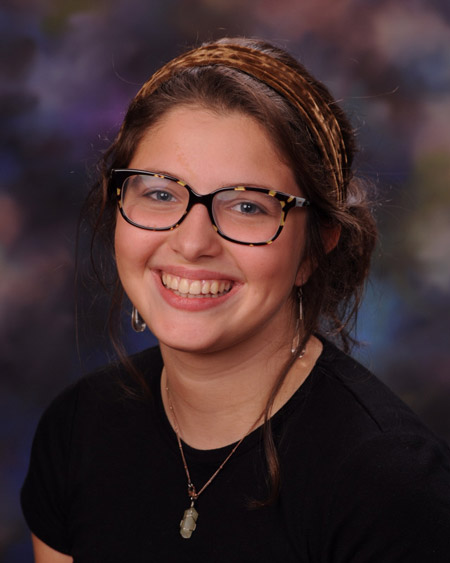 Huntington sophomore Maya DelGiudice.
Ms. DelGiudice has been working to master the instrument since third grade. "I've been taking lessons with private teachers as well as doing NYSSMA [New York State School Music Association] every year."
The sophomore recently completed NYSSMA's Level 6 and she is contemplating trying for All-State next year. The 16 year old also plays saxophone and guitar, sings and is even proficient on piano.
A member of the Suffolk County Music Educators' Association orchestra, Ms. DelGiudice also performs with Huntington High School's wind ensemble. She has developed close relationships with several of her music teachers and benefitted from their guidance.
"I think Ms. [Chelsea] Jablon and Mr. [Brian] Stellato were very big influences and have been really fun to hang out with through the years," Ms. DelGiudice said. The teenager plays an instrument that requires constant practice to master.
"The oboe is a soprano-range, double-reed woodwind instrument of 62 cm in length," according to HyperPhysics website. "Its wooden tube is distinguished by a conical bore expanding at the end into a flaring bell. A melodic instrument capable of very gentle, expressive passages, it is said to take a large air pressure to play. Although the range of pressure between the softest and loudest sounds is said to be larger than other woodwinds, careful control of the pressure on the reed is necessary with some embouchure adjustments to play each note in tune."
The oboe is somewhat of a mystery to those outside of the music field. "Traditionally made from African Blackwood, also called grenadilla, the instrument is made in three parts," according to HyperPhysics. "The top joint has 10 or 11 holes, most of which are manipulated by the player's left hand. The bottom joint also has 10 holes, for most of which the player uses the right hand. The bell section has two holes, covered with keys, which are not often used by the player. Oboes are still hand made by expert craftsmen who are very secretive about the dimensions, size of aperture, etc. used in the construction. The double reed is fashioned from cane, which is grown on the east coast of Spain or the south of France, which is usually dried and aged for several years. The careful fashioning of the double reed is a key part of getting a fine musical sound from the instrument."
Recently inducted into Huntington's Tri-M Music Honor Society, Ms. DelGiudice also participates in the high school's Habitat for Humanity chapter and the Gay-Straight Alliance. She has also gained membership in the English Honor Society.
"So far high school has been great," Ms. DelGiudice said. "All the teachers are wonderful and I've learned a lot."
The teenager is very busy, but she still finds time to follow current political events. She recently attended the women's march in Manhattan and plans to attend future events. "It was a great experience and for an important reason," Ms. DelGiudice said.
The Blue Devil varsity softball team's pitcher, the sophomore is getting tutored privately to sharpen her skills and performance on the mound. She's looking forward to a great season this spring.
"I haven't decided which direction I want to go in for a career, but I am starting to look at a few options for college," Ms. DelGiudice said.