January 20, 2017
Huntington High School's Tri-M Music Honor Society chapter welcomed 29 new members during Thursday night's induction ceremony in the School Heritage Museum.
The name Tri-M is derived from the international honor society's original name: Modern Music Masters. Candidates for membership are required to demonstrate scholarship, achievement, leadership and service. The group has traditionally been one of Huntington's most active and prestigious honor societies.
Tri-M officers Jordan Biener (president), Maddie Shea (vice-president), Adina Kirkland (secretary), Christiana Reinertsen (treasurer) and Katy Dara (historian) assumed leading roles during the induction ceremony. Huntington music teacher Brian Stellato is the organization's faculty advisor.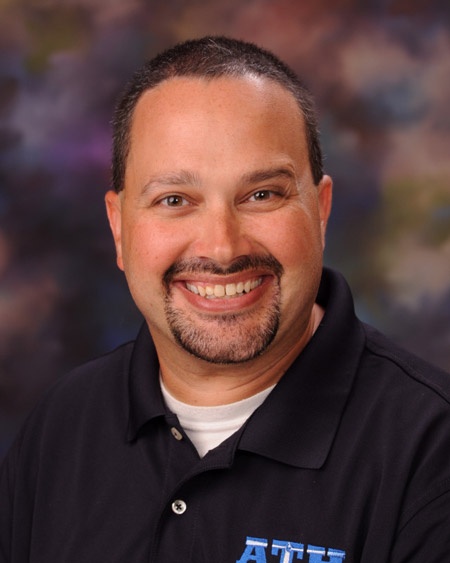 Brian Stellato is Huntington Tri-M's faculty advisor.
The new class of Tri-M chapter 2198's members includes Alexandra McKenzie, Amelia Maggio, Andrew Aprigliano, Annabella Matheus, Arielle Harvey, Benjamin Connor, Christiana DeLuca, Christopher Engle, Erin Bonitz, Evan Aguirre, Gaia D'Anna, Grace McKenna, Hadley Clayton, Haley Mortell, Hannah Bailin, Isabella Cahill, Katherine DeGennaro, Katie Riley, Lianna DeChiaro, LJ Kindall, Matthew Quinn, Maya DelGiudice, Meagan-Elise Malone, Mia Nitekman, Morgan Minicozzi, Nicholas Haupt, Olivia Baldanza, Rachel Roday and Sara Frawley.
"Huntington's music students continue to shine in so many regards," Superintendent James W. Polansky said. "It comes as no surprise that a new and relatively large group of extraordinarily talented and service-minded individuals have been inducted into this prestigious society."
The new inductees were a happy bunch following the ceremony. "I feel very honored to get to be a member of Tri-M," Ms. DelGiudice said. "It makes me feel accomplished after years of working on oboe. It's nice to be with such great musicians. Mr. Stellato is the best."
Ms. DelGiudice's sentiments were largely echoed by her fellow inductees. "I'm so excited to be even more involved in the music program and look forward to future events," Ms. DeLuca said.
Eric Reynolds, the district's director of fine and performing arts gave the evening's keynote address. "The induction of these fine musicians ensures that the tradition of excellence continues," he said. "The next generation of high school music students is certainly in good hands with this new Tri-M class. Our programs will be well-served and our community partnerships will continue to grow from the efforts of our Tri-M members. Not only are they outstanding performers, but they possess special qualities of dedication, peer leadership and selfless service to their school and hometown. I could not be more proud of our Tri-M students and their advisor, Mr. Stellato for what they have given to the Huntington music department. I am excited to see and hear their ideas and efforts in performance and service."
The audience was treated to exceptional musical performances by several Tri-M members, including soprano Maddie Shea, violinists Gabriella DeLuca and Billy Garfinkel and flutist Jacob LaBarge.
Ms. Biener closed the ceremony with a set of well-received remarks. A small reception in the area outside the School Heritage Museum as students mingled with one another, their parents and school officials.