December 12, 2017
Jane Judson has Huntington High School's Art Honor Society on the move. The organization's new faculty advisor and the group's student leaders are energetically pursuing a holiday related fundraising project with monies earmarked for several initiatives.
Students created gorgeous ornaments that are now being sold by Art Honor Society members. "We chose to do this project so that members who felt most confident working in clay could have a leading role in the ornament creation," Ms. Judson said. "We also felt that these ornaments were a way to spread a small piece of lasting artwork throughout Huntington homes."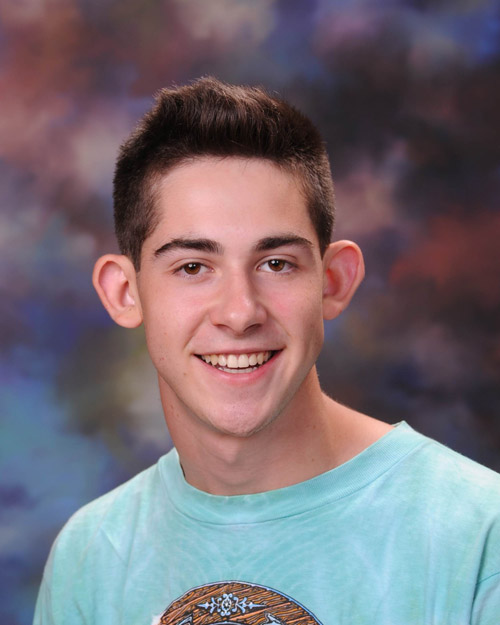 Huntington High School Art Honor Society
President Quinn Blackburn.
The organization's executive board is comprised of Quinn Blackburn (president), Katie Giambrone (vice president), Thomas Edgar-McNerney (treasurer), Francesca Greco (corresponding secretary) and Christina Varady (recording secretary).
The ceramic ornaments are colorful and eye-catching, to say the least. "Club members have grown closer to each other and are having lots of fun creating these collaborative works," Ms. Judson said.
The ornaments will be sold to benefit several causes dear to the hearts of Art Honor Society members. "Proceeds will go towards funding supplies for building murals around the high school and for Project Memory," Ms. Judson said. "This year we are completing portraits for children in a refugee camp in Syria. We are creating 14 portraits for these youngsters."
Ms. Judson obtained a Bachelor of Fine Arts degree in art education at Adelphi University in 2014. She earned a Master of Science in educational technology at Long Island University in 2017. Prior to coming to Huntington, she worked as a substitute art teacher in Hicksville and Syosset and as a youth drawing and painting instructor at the Long Island Academy of Fine Art in Glen Cove.
Interested in purchasing an ornament and helping the Art Honor Society reach its fundraising goals? The items will sold at all the concerts held throughout the month in the Huntington High School auditorium. Contact Ms. Judson at jjudson@husfd.edu for more information.