September 21, 2016
Relationships mean an awful lot to Emma Pipolo. The Huntington High School senior has always been a "people person" since her earliest days in the district at Washington Primary School. Her personality hasn't changed much over the years. Friendships are still an essential component of the teenager's life.
Ms. Pipolo likes to stay busy, so she participates in a wide array of activities from sports and clubs to charitable and volunteer service initiatives. She even traveled to Africa last summer to work with young people in one of the poorest areas of Tanzania. The dusty town was far from being a tourist destination. This is where a group of young people and their adult chaperones came to learn firsthand just what kind of difference they can make in the world.
A personable, well-spoken and informed young woman, Ms. Pipolo makes a good impression on everyone she meets. Her teachers and classmates respect and admire her. She's a serious young woman with a formidable intellect, but she has a great sense of humor, too, and her reservoir of kindness and compassion is enormous.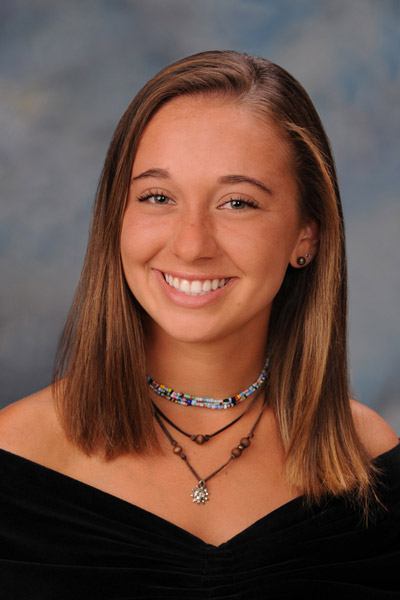 Huntington senior Emma Pipolo.
"One of my favorite parts about my experience at Huntington High School so far has been the amazing people that I've gotten to know," Ms. Pipolo said. "Some of my favorites include Ms. [Camille] Tedeschi, Mrs. [Heather] Swan, Mrs. [Kristin] Singer, Mrs. [Lorena] Hickey, Mr. [Jamie] Fishlow, Mrs. Sylvia [Belanger], Mr. [Steve] Lashin and Mrs. [Lauren] Brunoni."
The senior was elected vice president of the school-wide student government. Ms. Pipolo can be a decisive leader. Capable of holding her own in any conversation, the teenager is not afraid to share her opinion.
"The great friendships I've made over the years have made everything fun and unforgettable," Ms. Pipolo said. "Close friends and devoted teachers have made it possible for me to both enjoy and grow from my time here. I got lucky enough to travel with both Ms. Tedeschi and Mrs. Sylvia, as well as my sister Hannah this past summer when we all volunteered for a service learning tour to Tanzania, Africa. That unforgettable experience along with my trips to Turkey, Greece, Italy, Peru and Costa Rica that I've been on with Ms. Tedeschi have been some of the incredible highlights of my high school career. The things I've learned during those travel tours will stick with me for the rest of my life and have made me appreciate the world in a completely new way."
Like any senior, Ms. Pipolo is reflecting on the next series of steps in her life. "In the future, I hope to have a career that lets me incorporate my love for traveling, music, video and art," she said. "Going to Newport Folk Festival every year with my family has made me want to possibly work in the music industry or with music festivals. It will be difficult to find a new community and temporary home as amazing as Huntington next year."
Ms. Pipolo has enjoyed an idyllic run through the Huntington School District. "I have had wonderful times with my friends and coaches in basketball, lacrosse and tennis," she said. "Aside from these school teams, my friends and I are on an undefeated outside basketball team called the Jungle Cats, which has been unforgettably fun and a major part of my high school experience."
The senior has devoted many hours to Huntington High School's student government over the years. "Being involved in it has enabled me to really be a big participant in our community," Ms. Pipolo said. "I'm looking forward to being the vice president of the school. I know we'll have a great year."
Community service and helping folks of all ages is important to Ms. Pipolo. "One of my favorite parts about the Huntington community is the Project HOPE soup kitchen that I've worked in with my family for my entire life," she said. "I plan on continuing to work there on my breaks while I'm home from school next year, but I will definitely miss how frequently I get to go there now."
The teenager exudes positive vibes. Ms. Pipolo has impressed Huntington's teachers on every grade level and left her mark in each of the schools she has attended over the years. She has compiled a very strong academic record while also exploring many diverse interests.
"Along with the people and the traveling, my art and video classes have also been some of my favorites," said Ms. Pipolo about her Huntington years. "The Ten Day Film Challenge was a great experience. My team worked together to make the best video we could under the guidelines and our film was awarded sixth place in New York State. Our film also won best fiction/story in the Ron Serling Film Festival."
"I have taught Emma for three years in the video program," said Mrs. Swan, who heads the high school's film program. "Emma has a great personality, she's adventurous and works really well with her peers."
Ms. Pipolo is determined to make her final year of high school a memorable one. She has a lot on her plate and that's just how the senior likes it.