September 12, 2016
The Huntington varsity girls' tennis team won its second consecutive Suffolk League II match without a loss when it upended visiting Hauppauge, 5-2. Mia Breitbarth and Abby Bellistri captured No. 1 doubles, 6-2, 0-6, 7-6 (7-4) to pace the Blue Devils.
H-ton Field Hockey Falls to SE
The Huntington varsity field hockey team trailed 4-1 at halftime of its season opener at Smithtown East and the Blue Devils were unable to make up the difference, falling 5-1.
Liz Berejka scored Huntington's long goal off an assist from Grace Curran. Goalie Kaitlyn Sage stopped 16 Smithtown East shots.
Blue Devil Soccer Falls in Two Overtimes
The Blue Devil varsity boys' soccer team dropped a two overtime decision to visiting North Babylon, 2-1. Huntington had a one goal lead until the 73rd minute when the Bulldogs knotted the score at 1-1. The teams were scoreless through the first overtime before North Babylon notched the game winner from 12 yards in the second minute of the second overtime.
Freddy Amador scored the Blue Devils' lone goal off an assist from Mike Abbondandelo. Goalie Nat Amato recorded seven saves for Huntington.
Kayla Ryan is Tennis Manager
Huntington High School senior Kayla Ryan is the manager of the Blue Devil varsity tennis team this fall and she loves it.
"My friends on the team approached me and asked me to be team manager in the beginning of the season," Ms. Ryan said. "I never thought I would make such an instant bond with a team like I have with girls' varsity tennis. I love going to the practices and matches and helping lead the team in warm-ups, stretches and chants. I can't wait to see all their hard work pay off with a great season.
Tough Loss on Hot Day
The Huntington varsity girls' soccer team lost 1-0 to Newfield on a brutally hot day last Friday. The game was pushed back one hour in the hope cooler temperatures would prevail.
Following a scoreless first half, Newfield finally found the back of the net when it scored off a long cross about ten minutes into the second half.
Blue Devil goalie Anna Gulizio stopped 11 shots.
Blue Devils' Offense Falters
The Huntington varsity boys' soccer team's offense faltered in a 1-0 loss at Newfield on Saturday afternoon. The Blue Devils fired off seven shots on goal, but none could find their way in.
Newfield scored in the first half and that's all it needed to topple Huntington. Blue Devil goalie Nat Amato recorded nine saves.
2016 Alums Make Club Sports Teams
Huntington Class of 2016 member Brooke Baade has earned a spot on the University at Albany's club soccer team. The teenager played on the Blue Devil soccer, basketball and lacrosse teams.
Huntington Class of 2016 member Meghan Plant is on the University of Alabama's club field hockey team. The teenager has also joined a sorority. She has adapted well to college life and is enjoying all of her classes.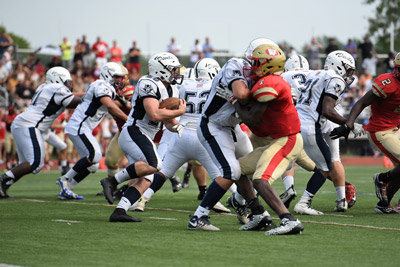 The Huntington varsity football team fell at Half Hollow Hills West on Saturday
Ms. Plant played on Huntington's field hockey and lacrosse teams.
H-ton Football Falls to 0-2
The Huntington varsity football team dropped its second consecutive game, falling at Half Hollow Hills West last Saturday afternoon, 39-6.
Seeded No. 1 in Suffolk Division II, Hills West jumped out to a 26-0 first quarter lead. The Colts led at halftime, 32-0. Jared Leake scored Huntington's lone touchdown on a two run yard in the fourth quarter. The extra point attempt failed.
The Blue Devils will look to turnaround their fortunes on Saturday (September 17) when they host visiting Smithtown West. Kickoff is set for 1:30 p.m.