November 9, 2016
Huntington High School's chapter of the National Science Honor Society is always ready to pitch in and lend a hand when the expertise of members is needed.
When Jack Abrams STEM Magnet School Principal Donna Moro put out a call for help, many of the teenagers who comprise the Science Honor Society's membership responded by heading over to the building on Lowndes Avenue and working with fourth graders who are beginning the science fair season.
"These students are acting as mentors for our fourth graders and helping them develop their experiment ideas into testable questions and then acting as on-going mentors available for questions via email throughout the experimentation process and the development of their project display boards," Ms. Moro said. "Both students and mentors were energized and excited to see the projects develop."  
Whenever high school students work with their younger counterparts in the district it's a special sight to behold. The patience displayed by the teenagers is remarkable and their ability to connect is inspiring.
This year's Science Honor Society is led by Rachel Roday, (president), Anjali Kapur (vice president), Donnie Stewart (corresponding secretary), Miranda Nykolyn (treasurer), Shannon Foley (recording secretary), Erin Morrisroe (fundraising coordinator) and Julia Engle (tutoring coordinator). Teachers Dame Forbes and Lori Kenny are the organization's faculty advisors.
The Science Honor Society inducted 20 new members earlier this fall to replenish its ranks following last June's graduation. Prospective members must meet stringent requirements, including a minimum average of 90 in science, 80 in math and 85 in all classes. To remain in good standing, society members must compete in science competitions, perform peer tutoring, participate in club fundraising and attend meetings on a regular basis.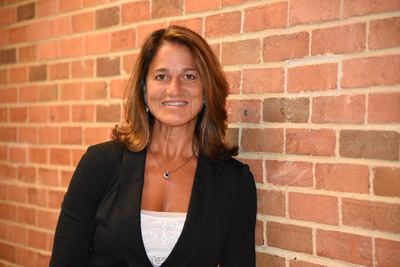 Jack Abrams STEM Magnet School
Principal Donna Moro.
"As a society we work with Jack Abrams STEM Magnet School to foster scientific learning in hands on ways," Ms. Foley told the crowd at the recent induction ceremony. "Our society members mentor STEM school students as they develop research questions and experiments for their science fair. Our members meet with the STEM students several times and advise them on their project, teaching them the basics of a scientific experiment, helping them structure their experiment and showing them how to analyze their final data."
Jack Abrams STEM Magnet School enrolls students in grades 3-6. "The entire school will participate in the science fair in different ways," Ms. Moro said. "We view the science fair as a progression with third grade participating in guided instruction in class with teachers conducting a science fair project. Our fourth grade begins to work more independently under the guidance of our high school mentors and then our fifth and sixth graders work independently on projects later in the spring. One student in grades 4-6 will have an opportunity to represent the school at the Brookhaven Elementary Science Fair in the spring."