November 3, 2016
Playing a very challenging schedule, the Huntington High School junior varsity girls' soccer team held its own, turning in a 7-7-2 overall record this fall.
Coached by Maria Canino, the Blue Devil JV was led by eighth graders Jordan Forte and Ainsley Lumpe, freshman Megan Agrillo and sophomore Julia Tesoriero.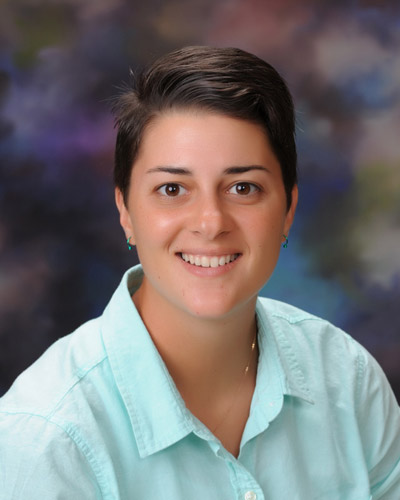 Huntington JV girls' soccer coach Maria Canino.
Forte starred at forward and midfield and scored a team best seven goals. "She was someone we could look to give the ball to," Canino said. "It's exciting to see such a young player with the skills for the game.
Lumpe notched more than 50 saves in goal for the Blue Devils and recorded seven shutouts. "She was unstoppable in the net, keeping us in many games this year," Canino said.
Agrillo shined a midfield, tallying three goals and five assists. "She's one of our more aggressive players who was able to feed the ball to everyone very well," the coach said.
Tesoriero headed Huntington's defense. "She has the skill, knowledge and confidence that will take her far in this sport,"Canino said.
Eighth grader Charlotte Maggio was another young standout, scoring a pair of goals and providing a glimpse of what's in store for the program over the next four years.
The Blue Devils claimed victories over John H. Glenn (1-0), Walt Whitman (3-0), Smithtown West (1-0 and 1-0), Copiague (7-0 and 4-0) and Newfield (4-0). Huntington tied North Babylon (1-1) and Centereach (2-2). The team lost five one-goal games.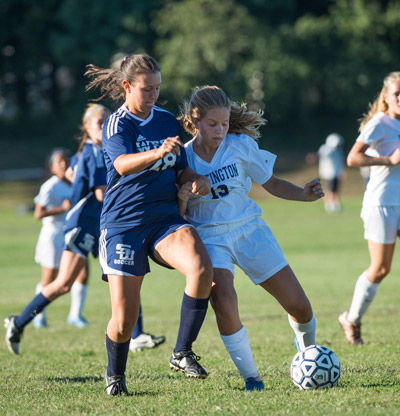 The Huntington JV girls' soccer team battles for the ball. (Darin Reed photo)
"Our biggest accomplishment was the team coming together," Canino said. "We had a big mix in grades with different levels of talent. The girls were able to come together for each other's success."
The 23-player team was captained by Kelly Warren, Natalie Gonzalez and Tesoriero. "This is a great group of girls with a lot of talent," said Canino about the JV squad. "We struggled a little bit throughout the season, but we were able to come together. I have no doubt that next year we will come back strong and ready for success."
Looking ahead to next fall, the varsity will undoubtedly need several of the junior varsity players to fill out its ranks following next June's graduation of many seniors. But, Canino doesn't expect the program to lose anyone. "I expect all the girls to return next year," she said.